Insights
How Much Does Branding Cost?
When many CMOs or business owners are faced with the prospect of evolving or rebranding their company, visions of dollar signs start running through their head. This often leads to many restless nights as they try to identify exactly how much it will cost and who is the best branding partner to work with. Even within the city of Atlanta, there are countless design, advertising and branding agencies posturing for this work, and their pricing and timelines vary greatly.
As with nearly everything in life it's the same with branding — you usually get what you pay for. While no situation is apples to apples, we've found there are some pretty safe ballpark branding cost ranges based on the process, the deliverables you'll receive, and your desired budget. It is important to note that the ballpark ranges we've identified can shift based on your location and the presence of your business.




Range 1: $1,000 – $10,000





The Team
You likely will be working with an individual freelancer or a small design shop of 2-3 people:

Individual freelancers can range in experience from a young designer just starting out to an experienced senior designer who has gone out on their own after working for a larger agency.
Small design shops typically include very senior creatives who are wearing many hats, or an experienced senior designer managing a junior creative or two.

In either case, the creative perspectives are limited to the number of people on the team.

The Process
You'll be the source for all input and direction for the brand.
Expect a phone call or meeting so the team can ask you questions about your intent and any personal preferences you may have.
After this initial consultation there may be little to no engagement until concepts are presented.
General color theories and standard approaches to design will be utilized. Brand discovery, competitive review, industry analysis, and brand strategy recommendations will likely not be included.

The Timeline

The Deliverables
Final logo files and possibly a brand color palette.
Sometimes minimal stationery design such as a business card, letterhead, or envelope will be included.
The Pros
Smaller investment up front and a quick turnaround are great if you're just getting started as a business.
Investing in brand discovery and competitive review may not be necessary if your brand leverages your personal identity allowing you to be the sole source for input and direction for your brand.
The Cons
Creating a brand without brand discovery, competitive review, and industry analysis can be problematic, and the work may need to be reassessed at a later date.
Brands created without a strategy or positioning are often based on "what you do," which you eventually may find your brand no longer feels right as your business grows and expands.
Any creative support to implement the brand will be in addition to this scope of work, so ask in advance the estimated costs for other services you may need if you'd prefer to keep working with the same creative team.
Small and experienced creative teams can be in high demand, which can sometimes lead to a waiting period to get on their calendar. If you're in a hurry to get started, this may not be the best option.




Range 2: $10,000 – $25,000





The Team
You may still be dealing with a single designer or a small team of 2-10 people, but in this range they should be more experienced and offer more branding services.
You may find some larger marketing agencies providing these services in this range as well. Most often these agencies are outsourcing this work to skilled creatives as they look to retain your business for future needs so you're paying for their network and project management.

The Process
You again will be the main source for the brand's direction, but some research into your industry and key competitors should be included.

The Timeline

The Deliverables
Final logo files and brand assets in various lockups, color orientations, and file types.
A basic brand style guide which identifies your full color palette, brand fonts and approved logo applications.
A simple identity package should be expected, which typically includes a business card design, letterhead (print and digital), envelope, mailing label, and email signature.
The Pros
This size of investment will give you a solid foundation to build the brand without it taking too much time.
The Cons
The level of research is minimal, and the visual brand can often still focus on what you do.
Your happiness will be the barometer for success, but a long shelf life may be compromised.
Be prepared to revisit this brand in about 5-10 years.




Range 3: $25,000 – $50,000





The Team
Expect an established design or branding firm with a team of 10-20 people.
You'll likely initially meet with the lead creatives, but they may have junior designers who do most of the heavy lifting with their guidance.
In this range you should expect more case studies with data to support the effectiveness of the work rather than a good-looking portfolio.

The Process
Expect to find a trademarked proprietary process for who how they approach their work.
Agencies will appear very similar, but each has tailored their approach to fit their team's strengths and personal preferences.
Research and strategy should be expected, including some branding exercises, competitive review and industry analysis.
The strategy and creative should be less focused on your preferences and more focused on how your brand can meet the needs of your potential customer.

The Timeline

The Deliverables
Full logo suite, an identity package, and an in-depth style guide that should include some design elements and photography direction beyond the standard approved colors, fonts and applications.
Here the style guides should include details for both print and digital applications. And yes, those details will be different.
The Pros
Skilled talent, senior leadership and a more refined process that should be grounded in research and strategy.
The Cons
You'll get some people who should be in "Range 2" playing in this price point.
While senior leadership may be positioned to you as working on your brand or guiding the younger team, the leaders are often pulled in many directions and the team can be left to their own devices.




Range 4: $50,000 – $100,000





The Team
Mid to large sized agencies which specialize in branding.
These agencies may have less than 15 people composed of more senior talent, but often there will be teams of 15-30 in this range.
You will work with senior designers and likely also have an account manager handling your project and communications.

The Process
You will experience a much more refined process and go through rather in-depth branding exercises.
In this range you can expect more research to be conducted and a deeper dive into understanding your industry, your customers, and opportunities for your brand to stand out from the competition beyond the visual identity.

The Timeline

The Deliverables
In addition to the deliverables defined in "Range 3", brand tent poles such as your voice, tone, values, vision, mission manifesto, client personas, and brand archetype(s) should also be provided.
The Pros
When grounded in strategy and focusing on the "why", brands are positioned to have a much longer shelf life. Brands should allow for organic growth or new products or services without needing to be redesigned.
The Cons
The process, due to a deeper level of effort, can take a while.
Most true branding agencies have their engagement end once the brand is delivered.
Often clients are left to activate and nurture their brand on their own, which is not their skillset. Because of this, the client may eventually feel a disconnect to their new brand and doesn't see the value in what they spent.
Account managers in the branding world can be hit or miss and at times can unintentionally filter out valuable feedback to the creative team.
Heavy account management can also lead to less than desired turnaround times on project progress or revisions.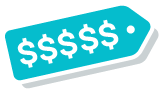 Range 5: $100,000 or more





The Team
These are well established branding agencies which have been doing this for many years.
It's not uncommon for these agencies to have more than one location and more than 100 employees.
Senior level talent and leadership are typically recognized as thought leaders in their space.

The Process
All brands will be grounded in deep research, both with internal and external audiences.
A solid brand strategy and foundation will be developed before any creative work begins.
Internal brand stakeholders will be educated and coached on proper brand activation.

The Timeline

The Deliverables
Expect the same deliverables defined in "Range 4."
A comprehensive brand style guide which defines all approved brand application details previously mentioned, as well as more in-depth details on how the brand will pivot between key audiences.
Scope of engagement usually includes the redesign of key marketing materials and an ongoing partnership to manage the brand activation.
The Pros
There is often an associated cachet of working with this kind of agency.
The results will be a strategically grounded brand which should clearly stand out within your space.
You will get a dedicated, senior team working on your brand.
The agency can and often provides continued creative support beyond the brand development (for additional fees).
The Cons
The price is high, and few can afford this kind of partnership.
The process is quite detailed and can easily take longer than 6 months.
Like in the previous range, the engagement usually ends after the delivery of the brand.
The fees, in addition to supporting senior talent and the time to do more research, also go to other associated expenses for running larger agencies with potentially no huge difference between the level of design provided in the 3rd or 4th price ranges.
As in Range 4, heavier account management and associated red tape can slow down the process.
Just like buying a car, the financial investment to build your brand can vary greatly based on what you're looking to get. Hopefully the branding cost ranges we've identified can help you better know what to expect and avoid any sticker shock as you explore your options.
If you have any further questions about the branding process or want to learn what Reckon can do for you, then lets chat!